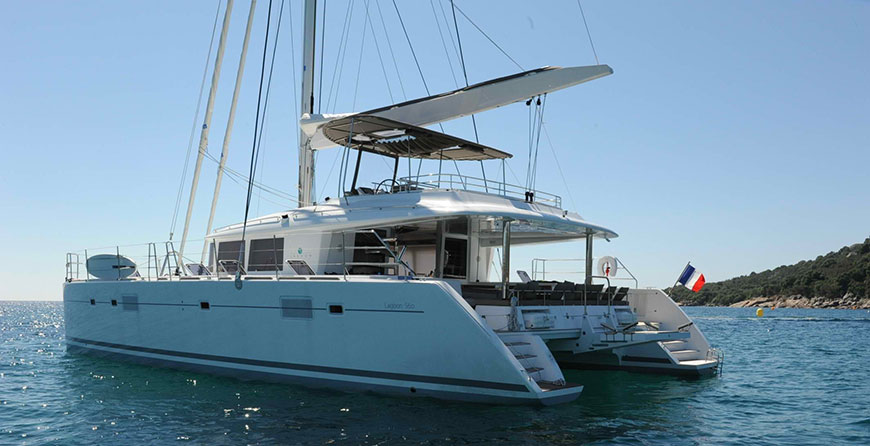 Yacht presentation: Lagoon 560
The sailing catamaran Lagoon 560 is the most luxurious and most modern boat model that Lagoon lauched recently. Every since appeared on Croatian charter market this catamaran has been attracting many guests because of it's extraordinary comfort and spaciousness that this boat is offering to them. With the lenght of 56 feet and the beam of almost 31 feets on board this catamaran you will feel like at home. This sailing catamaran offers the highest level of comfort on board and will surely please the most deanding charter clients.
Lagoon 560 is available only for crewed rental in Croatia meaning that it can't be rented by charter client itself but a professional crew must be present on board. Usually crew on this sailing catamaran consist of captain and hostess. Friendly and professional crew will give their best to offer the highest level of service to it's guests. They will take care about the safety, comfort and enjoyment of their guest in order to make their staying on board this cat to a real sailing pleasure. They will gladly share their knowledge and experience with their guests to provide them the most exciting vacation.
Luxury is the key word when descibing this extraordinary sailing catamaran.Lagoon 560 has 4 guest cabins and 4 toilettes. Crew has 2 seperated cabins so the guests on board can enjoy full provacy. Guest cabins are very comfortable and are built openly with more than enough room for a comfortable toilet area. Boat's cabins are so spacious that there is even enough room in each cabin for a separate desk. Shortly saild these cabins look like a luxury hotel room inside a catamaran. The boat's saloon is also very spacious and it is made with large windows all around to let in large amounts of natural light, with access to flybridge!
Lagoon 560 is a best option to book – a perfect catamaran for your outstanding yacht holiday!