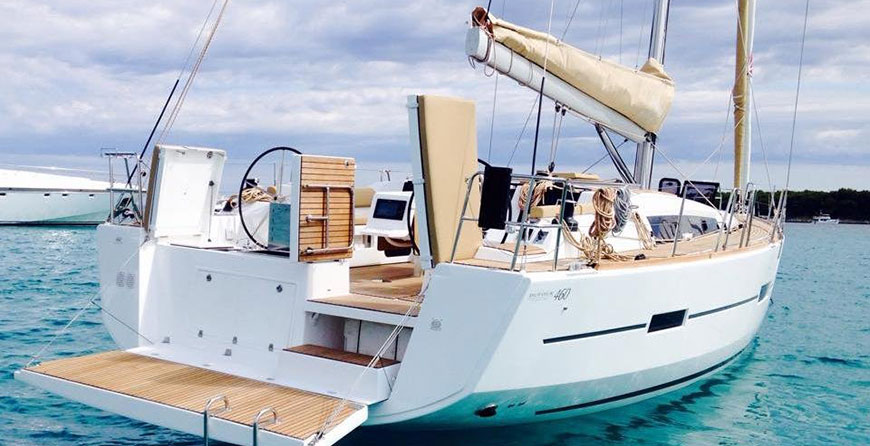 Yacht Presentation: Dufour 460
The newest sailing yacht from Dufour, 460 Grand Large is already launched in the Adriatic waters and ready for rental in Croatia with Yacht Holiday. Dufour 460 is a beautiful vessel, closest to perfection as it gets when it comes to sailboat charter. Just imagine sailing this beauty trough the numerous Croatian island, bays and beaches.
The 460 Grand Large exterior is beautifully designed, with sleek modern lines, and dynamic shape, so it looks in motion even when on anchor. The extra wideness of the sailboat makes more space for you to enjoy the openness of the deck, with even more sunbathing space. The deck is clear of obstructions, so you can pass easily from stern to bow.
The stern part, and the cockpit is especially large, with a lot of seating area. Two large wheels are strategically placed to help passage, and not to take much space. Intelligent built of the sailboat extends to the far back of the stern where the platform opens up into a grill, on which you can cook some of the tastiest Mediterranean dishes, and enjoy your outside summer lunches, and dinners.
The interor extends the overall feeling of luxury on this sailboat. You may notice the large tan windows on the side of the sailboat, as well on the deck part, at first glance. These windows insure the maximum sunlight in the interior and all the cabins, making it seem larger, and bringing a more open feeling to the sailboat. 4 cabins inside the sailboat are beautifully done, with a keen French eye for design, and equipment according to the highest charter standards.
As for its purpose, sailing , the performance you get from this sailboat its absolutely fantastic. It is fast, safe, and easy to handle, so you can enjoy your Croatian holiday to the max.