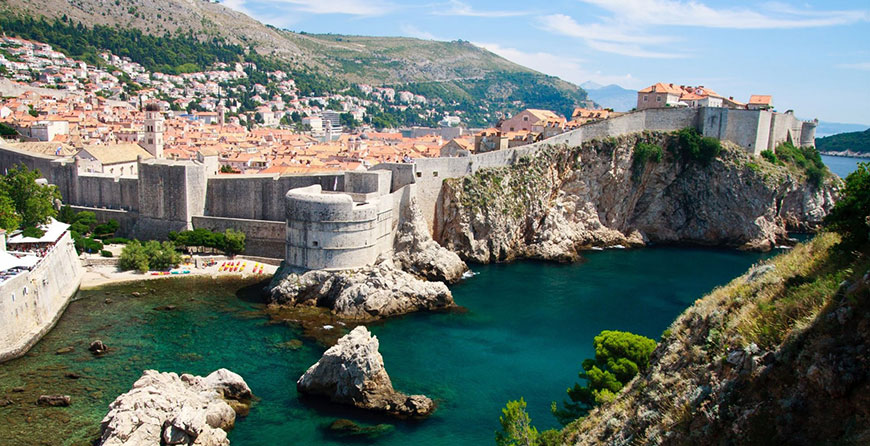 Top 5 Landmarks in coastal Dalmatia!
Croatia is a country rich in culture, with many monuments, sights and historical landmarks. The coastal region is the one where most of the structures are still standing as national monuments. If you decide to rent a yacht in Croatia, and tour Dalmatia (its southern region) you should certainly visit the following top 5 historical landmarks!
1. Diocletian palace –Split
This beautiful landmark was a summer home of the Roman emperor Diocletian built at the turn of the 4 century AD. The palace is still mostly intact so you feel as though you entered a real roman city! The palace itself haw 4 entrances, or gates. Golden gate, Brass gate, Silver gate, and Iron gate stand on each side of the world as an entrance to the town. On the inside there are many monuments such as Peristil and the St. Dujam Chatedral, numerous streets, and the fort dungeon, where Game of Thrones was filmed!
2. Dubrovnik city walls
The walls of Dubrovnik are a historic landmark of the old Dubrovnik Republic. The famous Game of Thrones was filmed in this sight, and Dubrovnik walls represent the walls of Kings Landing. The walls length is an uninterrupted 1,940 meters. They were built for city defense from limestone in the early Middle Ages, and were never breached, which is why they are considered among the greatest city defense systems in the world!
3. Trogir city center
Trogir is a small Dalmatian town near Split, connected with a bridge to Ciovo island. The entire old town center is under UNESCO protection. The most recognizable architectural monuments are the Kamerlengo castle, which is built in the 14 century and perfectly intact. St. Lawrence Chatedral is also a famous landmark, with the beautiful gatework of master Radovan.
4. Roman Forum- Zadar
Zadar is a home to a 3000 year old Roman forum, remains of which are located in the center of the town. The forum lays a base on which the city was built around. Just by the forum is a church of St. Donatus a beautifuly shaped 27m building from the 9th century.
5. Cathedral of St. James –Sibenik
St. James Chatedral in Sibenik, or in Croatian "Katedrala sv. Jakova" is a basilica with a 32 meter high dome. The cathedral itself is a famous Renaissance monument in whole Croatia. Famously the building took a long time and a few masters which is why it has elements of the Gothic, Renaissance and other styles. Plans began in 1298, the builds started in 1431, and was completed in 1441. Though it had many masters the most famous of all was Giorgio da Sebenico.