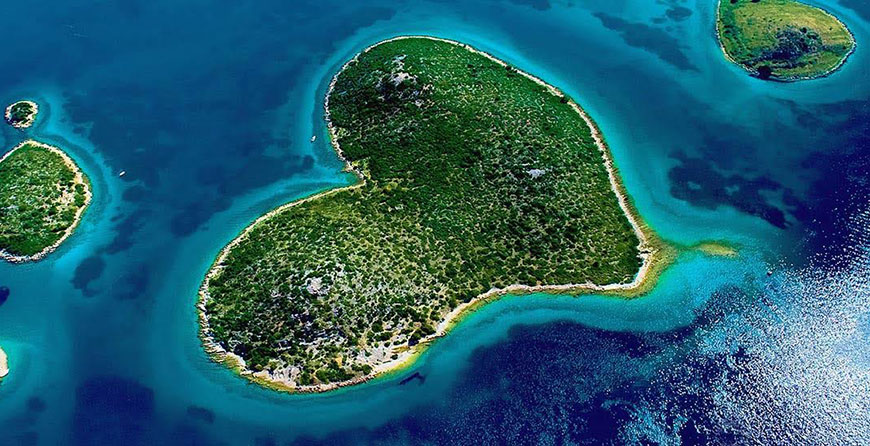 Top 3 interesting island shapes in Croatia!
If you're still sitting at home, wondering about where to go on your next holiday, look no more. Renting a yacht and sailing the numerous islands in Croatia is something anybody should try at least once in a lifetime. But be warned, once you visit, you'll almost certainly get hooked, and return again and again. There is plenty reasons why, here's one!
Croatia is widely known as a country of a 1000 islands. All of those are beautiful in its own way, with plenty of bays beaches, and ports for You to explore, with numerous landmarks, and natural wonders. For every island there's a unique shape. Some of the shapes are really amazing. Here's top 3!
Top 3 oddly shaped islands to sail in Croatia!
1.Heart shape – Galesnjak
Galešnjak is a small island located in the Pasman channel and relatively close to Zadar. It is often called the "lover's island" because of its almost perfect heart shape. It has a 1,5 km long beach and its only 36 m high. If you're planning a romantic sail with your loved one, rent a yacht and sail to Galesnjak! It doesn't get much more romantic than a heart shaped island.
2. Fish shape – Gaz
Gaz is a fish shaped island in the Brijuni archipelago. It is a small island and among only the few islands of this shape in the world. Gaz is a part of the National park Brijuni just outside the west istrian coast. We strongly recommend visiting Gaz, and Brijuni in general!
3. Axe shape - Jerolim
Jerolim is an island in the Pakleni archipelago. It's located closest to Hvar of all the larger Pakleni island, and its located just a few hundred meters from the City. Its coastline runs a 2.37 km, with two beautiful bays, on the southern and northern side of the island.
If you wish to visit any of these beautiful Croatian islands contact us and we'll fing a perfect boat for you.