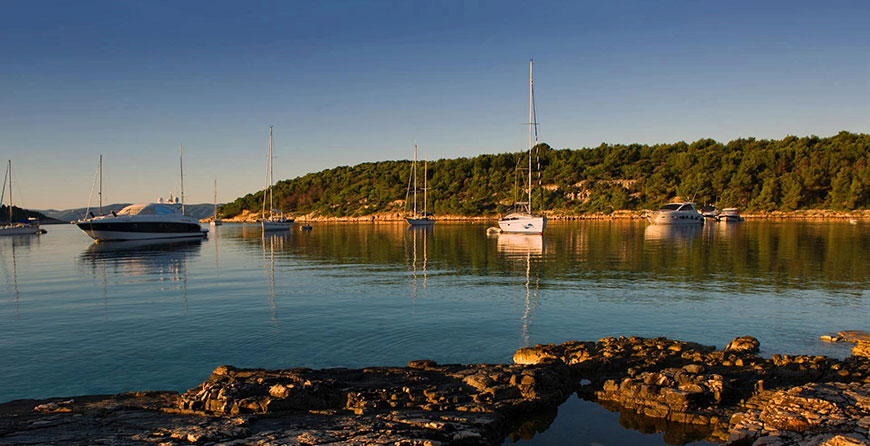 Lucice bay - A perfect shelter for bareboat yacht rental!
Lucice is one of the fauvorite bays among many yachtsmen who come in Croatia to sail in Split sailing area or more precisely on the island of Brac. Lucice bay is often characterized by pine forest and crystal clear sea with sandy bottom which is the main reason why the sea in this lovely bay takes on a fascinating azure color. In addition to sailors, this bay is also very popular among divers due to a cave situated on the western side of the bay. Lucice bay is definitely one of the most popular anchorages in the Adriatic!
Lucice bay is located on the south-eastern side of the island, near Milna, about 2 nautical miles from Split Strait (Splitska vrata) – on the outside.This bay looks like a clover with several leaves or branches including Smrce, Slavinjine, Duboke and Koromaslinove. All the mentioned branches are excellent shelter from almost all winds, but depending on the position and direction of the wind, some branches offer better shelters at the relevant time depending on the wheather condition of course.
The widely known and most popular is the westernmost branch of the Lucice bay known as Smrce.Smrce is an anchorage offering 18 buoys, crystal blue sea and genuine Dalmatian specialties. Once anchored in Smrce one should not miss many of local specialties that konoba "Marino" has to offer.
Konoba "Marino" is situated by the very sea, in the western and the best protected part of the stunning anchorage Smrce where one will be kindly welcomed by some unusual hosts - the famous former player of the Fotball club Hajduk from Split , Mr. Marino Lemešić, his wife and journalist, Mrs Dragica Lemesic and their son and well known yachtsman, seaman and protector of the Adriatic, Mr Leo Lemesic.