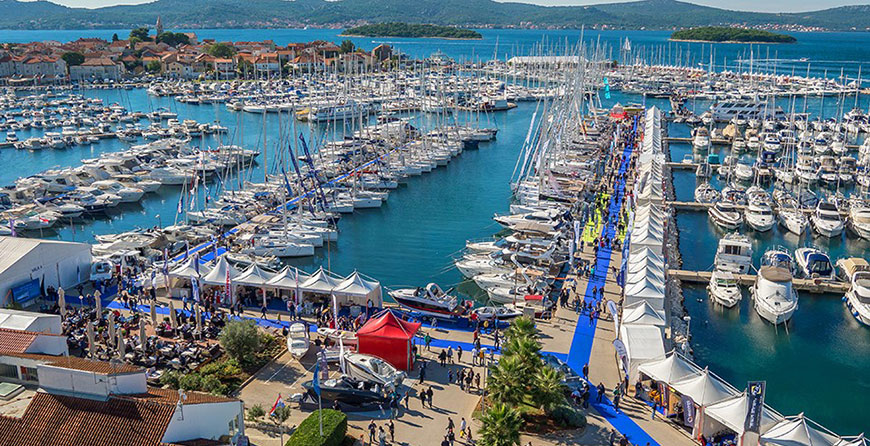 Biograd Boat Show 2016
The biggest exibition of boats in Croatia "Biograd Boat Show" attractive in-water exhibition will be held in Biograd from 22nd till 25th of October 2015. This year it is expected to be another great show with the highest number of participants since all three exhibition halls have been sold out six weeks before the show including the expanded hall C. After 16 years of uninterrupted growth, we expect to have another record boat show with an increase of last year's figures of 276 exhibitors and 291 vessels.
The show attracts large number of visitors and exhibitors from a wide region in Biograd – town blessed with world class nautical facilities and resort infrastructure necessary for an enjoyable stay. The event takes place at the impressive facilities of Ilirija Ltd which include Marina Kornati, Ilirija hotels, restaurants, and entertainment facilities.
During the Biograd Boat Show 2016 a variety of regattas will be held including the following regattas:
BBS Regatta – an open event designed to promote many classes of boats from small dinghies to large cruiser racers.
Samoborska Regatta – They treat show visitors to their traditional music and food in the marina restaurant on Saturday night.
19th Czech Rallye - Cruising the region, they return on Saturday and are guests of the show.
The Race – This 1000 mile offshore regatta from Biograd to Lefkas Greece will have live GPS tracking during the show.
World Championships Topcat K1 + ITC K2+K3 -The official presentation for the Biograd 2016 World Championships will be held during the boat show at the yacht club Biograd Stand. This group of catamarans has over 1200 active vessels worldwide.
The Biograd Boat Show is a Gold Member of the International Federation of Boat Show Organizers, adopting the high standards of the organization.