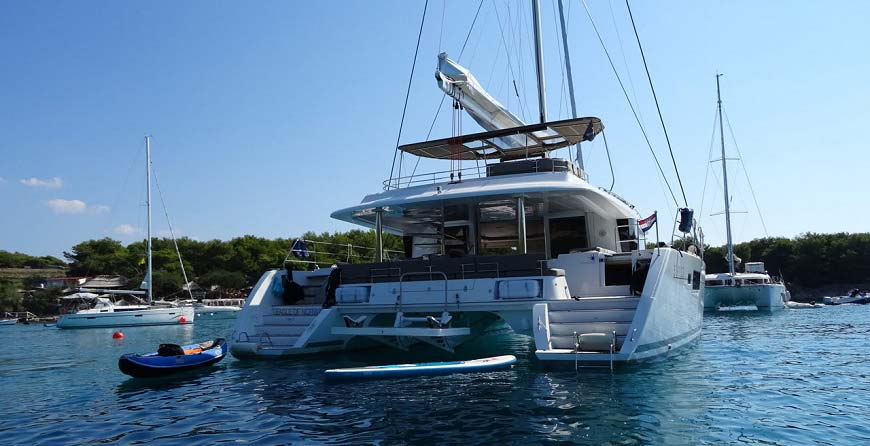 Yacht Holiday in Croatia
Picture a perfect holiday. Now picture yourself on a yacht in Croatia, exploring new places, eating great food, drinking amazing wine, sailing some of our 1000 islands, and having a new amazing experience at every corner. The two have to be pretty close, right? You can rent a yacht easily, at the best price and have a perfect yacht holiday in Croatia. In today's edition of the blog, we'll be describing a typical yachtholiday experience on a week sailing adventure. We'll guide you all the way from the booking to the end of the actual trip in a short article.
Booking a yacht holiday in Croatia
First, you Browse yachtholiday.com. It's always advisable to contact us so we can help you with everything from yacht and route choice, to tips on what you can expect from your trip. On your own best way is to use our yacht catalogue, and check out catamarans, sailboats, gulets, and motor-yachts. After you've found the desired boat type and model, click on it, and look at the available yachts in Croatia at the bottom of the page. This will show you all the available yachts (of that model) in different marinas across the Adriatic, along with the basic info about the yacht and the prices. By clicking on the "more" button, you're guided to a page where you can check availability by dates, and either book online or send us a request, so we can guide you through the process. Another option is to go straight to our real-time search engine, simply set the search parameters to your wishes, and choose a yacht.
Always remember to take a glance at our special offers before deciding.
A yacht holiday sailing adventure
Once your trip is booked, you get to go on a sailing trip in Croatia! The transport will be arranged, and in no time, you'll be greeted on your yacht by a member of the yacht holiday's crew. It's always advisable to hire a skipper, no matter how good of a sailor you are, and relax more on your yacht holiday in Croatia.
Taking off is always a special moment. While enjoying a nice bite of the authentic Croatian snack on board, you'll gently sail out of the port and into what will soon turn out to be an adventure of a lifetime. It won't be long until you pass your first island, and experience the sea life. The wind filling the sails while you glide on the surface of the Adriatic. It's just indescribable.
The journey to the first port will come sooner than you think, and you'll anchor and get time to explore. In that (and every other destination during your trip) location you'll explore the area, witness the most beautiful nature. You'll get to know the special way of life on Croatian paradise islands. You'll learn about local culture while listening to authentic music and trying out an original specialty to the area!
The first time your body touches the clear blue Adriatic will also be an experience to remember. Cool, refreshing touch of the sea water, as it lets you in to the secret underwater world is simply unforgettable!
Nights in Croatia are nothing short of amazing. You'll party at the local club, after a nice meal in a great seafood restaurant, or just take a bottle of local wine back to the yacht and enjoy an evening on board with your company. Croatian nights on the sea are full of stars, so this may be perfect for a romantic getaway. A lot of our guests come for a honeymoon, so that's always a great idea. Sleeping aboard a yacht will most likely be more enjoyable than sleeping at home! The interior of each yacht is comfortable, and offers everything needed for a careless stay. If you're worried about the toilets, don't be because an average bathroom on our yacht looks like this.
In the time of your adventure you'll witness beautiful places such as the Blue cave, Kornati, Brijuni, Pakleni, depending on where you decide to go. You'll take in history like a sponge, seeing the awesome remains of past cultures, landmarks, churches, walls, and incredible architecture. You'll discover hidden bays, beaches, ports, small island towns. On the other hand, you'll have plenty of party hotspots to enjoy.
By the time your adventure ends, you'll be refreshed, well rested, and richer by countless new experiences. You'll grow closer to your co-sailors, hopefully meet new people, and try out many new things. It's very hard to describe an adventure like this in a short article… But, if this gets you even a step closer to considering Croatia, we did our job. We'd like to have you in our crew as soon as possible, so contact us whenever you're ready and we'll get you an unforgettable yacht holiday in Croatia!