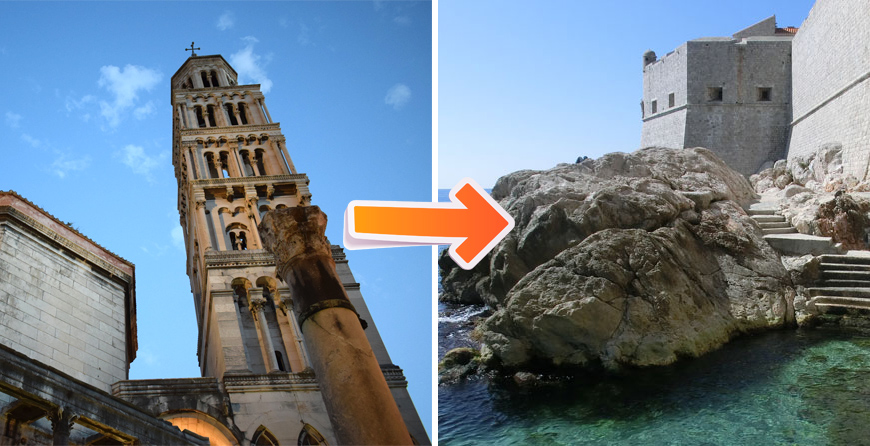 Split Dubrovnik one way charter
Split Dubrovnik one way charter route is probably the most popular sailing route in Croatia. The reason why is simple really, as the route connects two of the most beautiful Dalmatian cities and sails the most popular island destinations in Croatia in between. If you really want a taste of Dalmatia this is the best route to take. So hop on board, and explore this 7-day long adventure on the Adriatic!
The route starts in Split, the second largest city in Croatia, and the self-proclaimed (deservingly) most beautiful city in the world! But we won't be staying in Split for long, as the route soon takes us to the beautiful Stomorska village located on the northern coast of Šolta island. Stomorska is a nice relaxing place for you to get a first "taste" of Dalmatia, both figuratively and literally, as it is a great place to try out local specialties.

After Stomorska we push on to Hvar. Hvar is a whole different world compared to Stomorska, a wild, crowded party paradise, unbelievably beautiful, nestled in the shelter of the exotic Pakleni islands. These two places are sure to make your trip an adventure of a lifetime, and we still haven't reached half of the trip.

Next, Korčula, another amazing island, and a city full of life in every sense of the word. Get lost in the unique fishbone streets, climb its walls and gaze from the towers to the nearby Pelješac peninsula and the shadow of Hvar island you just visited.
After this mix of party and culture, you'll experience the nature of Dalmatia, visiting Pomena and Okuklje, both on the beautiful Mljet island. Mljet is a Croatian National park, an island with not one, but two lakes, and some awe inspiring views of nature and the Adriatic. Mljet is a remote place and a safe place for you to relax in the full meaning of the word. If you haven't already "recharged your batteries", you will most certainly at Mljet.

Next is Šipan, the largest of the small Elaphiti islands. Šipan is available almost exclusively to sailors, a paradise isle with a calm and safe bay. Šipan is the place to try food, wine, and hike the local trails. The last place on the list is Dubrovnik! Sailing to the grand walls of GOT King's Landing is sure to leave you breathless. There are so many things to explore in Dubrovnik it needs a separate article, so here.

Thus ends our 7 days, one way adventure. You have by now returned with new experiences, amazing stories to tell, and a feeling of freedom which won't soon fade.
If you'd like to experience this adventure in person, contact yachtholiday!