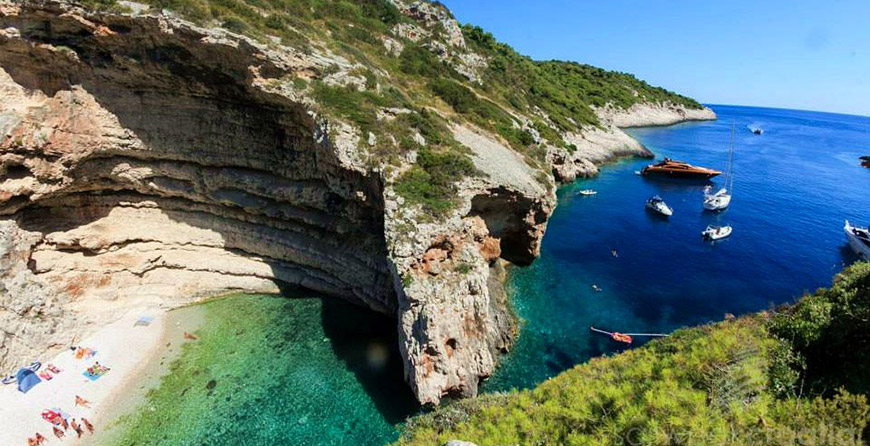 Sailing Stiniva, the best beach in Europe!
We have great news this week for all Croatian sailors and anyone who'd like to rent a yacht in Croatia! Stiniva bay, a favorite bay of many sailors and yachters in Croatia, was declared the best beach in Europe, by European Best Destinations! For those who visited Stiniva, and already uncovered its amazing secrets this shouldn't come as a surprise, but more as an "it's about time!" feeling. On the other hand, if you're among those who are yet to discover this beautiful, exotic bay you're in luck! In today's article, we give you a "closer view" at Stiniva sailing, with some equally beautiful surrounding spots to visit, so enjoy!
Stiniva sailing
You can't even begin to write an article about Stiniva sailing without describing the beauty itself first. There is a reason this amazing bay stands before so many other with a glorious title of Europe's most beautiful beach. But like with many other things in life, it's not the size…
Stiniva is a small beach, covered in perfectly round pebbles on the southern side of Vis Island (Central Dalmatia - Split sailing area). What makes Stiniva so perfect, are its immediate surroundings, its crystal clear sea, and its position with an amazing view of the open Adriatic.
Stiniva Bay is surrounded by some high rocks on both sides. This small pool of crystal clear sea water, sheltered in its tall rocky gate that looks out to sea is a perfect place to lay down and enjoy a cocktail, or just sunbathe. The unique, majestic Stiniva is probably a result of a collapsed cave ceiling a long time ago, which left a high rocky entrance into a beautiful pebbly beach! You can anchor a yacht outside the gate, and enter in a tender or simply by swimming into the bay. And the view is absolutely amazing. There's just something indescribable about the Mediterranean sun reflecting over the crystal clear sea, and the vast emptiness of the open sea that makes you reflect on life in a sudden surge of happiness. And it's that, just that incredible jaw dropping feeling is the reason Stiniva is the best beach in Europe!
Green cave
Just outside Stiniva beach, and the southern part of Vis, there are a few small islands. These smaller siblings of Vis hide many beautiful places which are accessible only to sailors. One of them is Ravnik, which on its southern side opens with two large entrances and some tall rocks into an amazing play of light.The Green cave is one of the caves Vis is famous about. Its unique green color is actually a play of sunlight and the sea. There is a round opening on the ceiling of the cave nicknamed "the chimney", which at a certain part of the day allows a visible ray of sunshine, which breaks in the clear sea water.
This really is a sight to see, and can't be described nearly well enough without actually seeing it (hence the video above ;) ). The green cave is a healing place made for relaxing. On the other hand the outside of the cave offers a high jumping spot on its rocky top, so the adrenaline junkies can also fully enjoy the cave! The cave is accessible by a sailboat, and you can even enter the cave with a smaller motor yacht, or a tender which is an even better experience!
Budikovac
Budikovac is another one of those small islands close to Vis, and Stiniva. Just a swim or a short sail away from Ravnik, there is an island with a beautiful beach called Budikovac. A shallow beach is sheltered by a lone rock and an even smaller island (small Budikovac). The beach is stunning, and a favorite of many sailors. Just beware the shallows of Budikovac, which make it inaccessible at a lower tide! Be sure to enter Budikovac from the south, because of the north passage is too shallow to sail.
And there you have it! If you plan sailing Stiniva, we recommend chartering a catamaran or a motor yacht to access the surrounding shallows like Budikovac more easily. Stiniva is an amazing place to sail, and the surrounding spots are perfect to drop your anchor in! So enjoy your yacht rental in Croatia with YachtHoliday and Stiniva sailing.