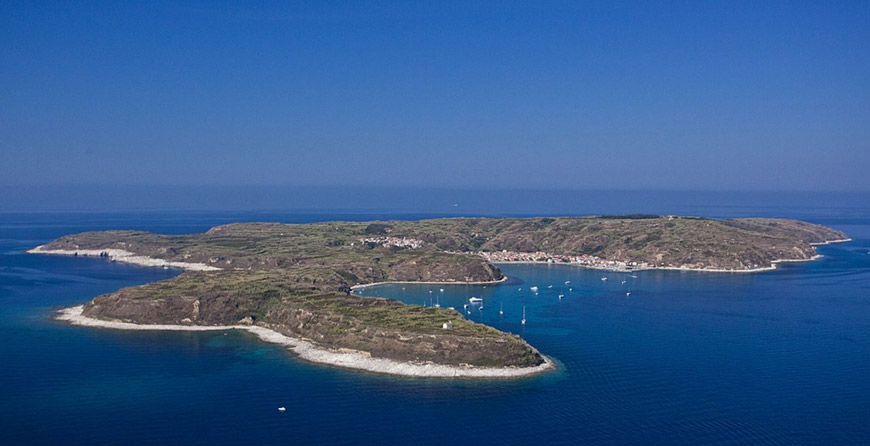 Offshore islands in Croatia
Offshore island sailing in Croatia is different than sailing well known charter destinations. It gives you a greater experience of adventure and isolation, better feeling of the open sea, and a better understanding of the Adriatic. If you want to get closer to the sea, experience true peace, and are more of an explorer than a "party animal", you can get almost a Robinson Crusoe experience sailing the offshore islands, with a yacht rental in Croatia.
If you found yourself in the description keep on reading and find out some of the offshore islands in Croatia available for sailing with yachtholiday.com! In this list, we focused on the less known, but beautiful islands, relatively far away from the Croatian coast. But be warned, this is not for the faint of heart!
Offshore island sailing in Croatia
Bisevo
Bisevo is a small island located close to Vis, both of them located far offshore in the Split sailing area. This island often depicted as a rock in the Adriatic has two different faces. One side is the rocky side, with high rocks opening an entrance into the world famous aquamarine paradise of the Blue cave (blue grotto). The other side of the island offers much less intimidating environment and a beautiful sandy beach on the photo below!
Bisevo has a population of only 15, and a small surface of 5.8 km2 . Some of the rocks reach about 20 meters in height, and are truly an amazing sight! The island is covered in a thick pine forest.
Lastovo
This Dalmatian gem is located close to Korcula roughly half way between split and Dubrovnik sailing area! There are a lot of magnificent sights to be seen on this island, such as the high rocks with a lighthouse on top (shown on the photo), and the hidden world of the Zaklopatica bay, where you'll be sheltered from all winds in a pool of crystal clear sea and much more…
Susak
Susak is a small island located close to Cres in the northern Adriatic. Susak is a small island accessible with a yacht, offering some of the most beautiful beaches (like the one in the photo), crystal clear sea, and a perfect Mediterranean experience! There are only 150 people living on the island in two villages on the island!
Unije
Just an island away from Susak, and a bit more north, you can find the beautiful isle of Unije! Unije is a bit larger island (just under 17 km2 in size), but less inhabited than Susak with under 100 people living here throughout the year! Unije is covered in the Mediteranean vegetation, and is home to numerous beautiful beaches you can easily access with a yacht!
Premuda
This small island is the one furthest offshore in the Zadar sailing Area! This Adriatic beauty is covered in olive trees, which are the source of income for the most of its 50 inhabitants. There are a lot of beautiful diving spots close to Premuda, most popular being the wreckage of an austro-hungarian ship SMS Szent Istvan, accessible to more experienced divers!