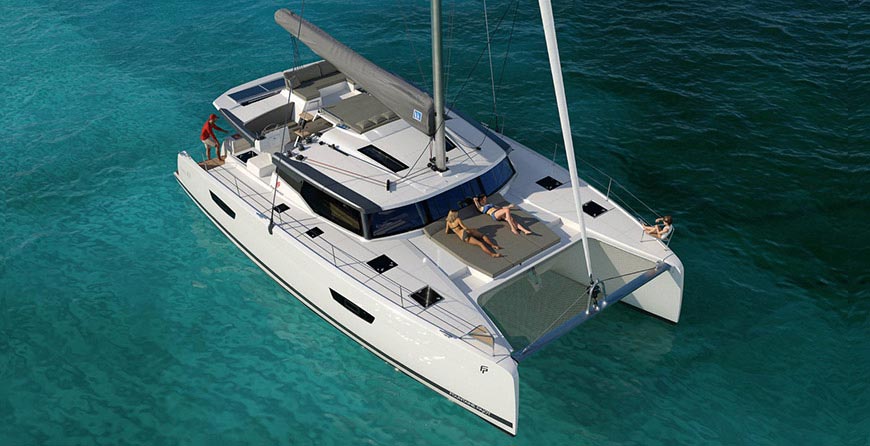 Fountaine Pajot New 47 – Sailing Croatia in style
Remember gazing out at sea as a child, watching a sailing yacht gracefully gliding on the water, and dreaming about how great it would be to sail aboard? Well now you can make that dream come true and rent a yacht in Croatia with YachtHoliday!
Today we'll talk about a sailing catamaran that is, much like those sailing yachts of your childhood, sure to turn some heads when it passes by! Fountaine Pajot New 47 is a beautiful sailing catamaran available for rental in Croatia! As its promotional page says this sailing catamarans offers elegance and individuality to every sailor lucky enough to spend a few days aboard.
So what is it that makes the 47 so special? Well, for starters it offers an incredibly high level of comfort aboard, with modern design fit to meet all of your needs, and still keeps a great level of performance. It is after all a sailing yacht… The best thing is, Fountaine Pajot New 47 does all this without sacrificing any of the signature style.
Let us start with a few numbers. This sailing catamaran is 14 meters long, has a beam of 7.7 meters, comes in a 3,4 or 5 cabin versions, and has a shallow draft of only 1,3 meters, which means you can get closer to those beautiful shallow spots! The interior simply radiates design, with smart components incorporated at every corner to make your life on sea easy and your stay comfortable. Speaking of comfort, the yacht provides spacious living areas, a bathroom in each cabin and plenty of free space so you don't have to squeeze to pass, or worry about fitting just about anything on the yacht. The saloon is entered from the deck and is in fact a beautifully designed, cushy living room with plenty of light coming in from the large windows.
Fountaine Pajot New 47 rental in Croatia is sure to satisfy, especially with an exterior this beautiful. The stylish modern shape uses the most possible space aboard and lets you enjoy an open and free deck. Two large staircases on the stern lead to a charming dining area, fitted with a table and a lot of seating space. Fly deck is amazingly used, bringing not only perfect visibility for the skipper, but also a nice sun bed for you to enjoy sunbathing on those long relaxing cruises.
The New 47 is more than eye candy as it is primarily built for great sailing experiences. A large sail area and a perfectly positioned mast make this catamaran fast, incredibly stable, and most importantly safe and reliable. Fountaine Pajot New 47 truly lets you "sail in style" and experience Croatia in the best possible way!
Contact us anytime and rent this sailing catamaran in Croatia.