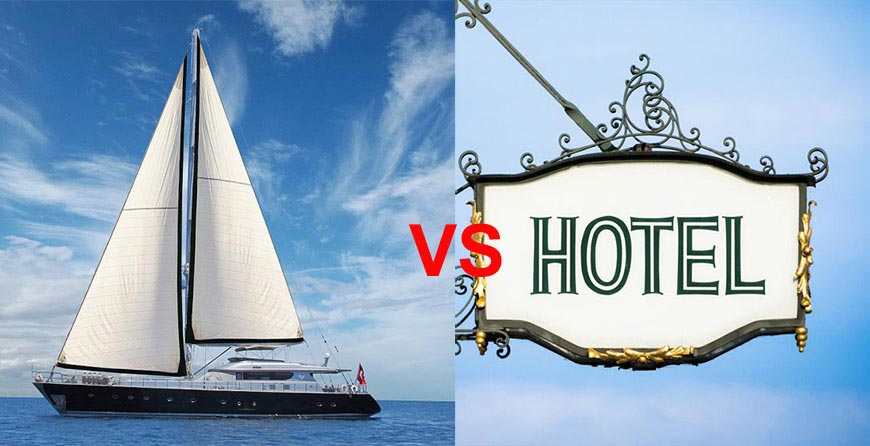 Don't stay in a hotel, rent a sailboat!
Hotels can be beautiful, with spacious rooms, great views, and a perfect service. But even a perfect hotel in an amazing spot, can never measure up to chartering a yacht. Croatia is a country with plenty to offer both in its coastal and continental part. But if you'd like to come in the summer and experience the true Mediterranean there's no question about it, sailing is definitely better! Here's why…
Yacht Charter vs Hotel
First and foremost the mobility! Why stay in one place, when you can sail many? Why should you dip in the same beach for an entire holiday, when you can anchor in another bay every day, and experience many beautiful beaches? If you want to see more, and experience more, if you want to get more, rent a yacht!
It's a common mistake to think a hotel room offers more comfort than a yacht! The yachts we offer, are in perfect condition, design in a way to insure the maximum comfort, with spacious rooms, bathrooms, and everything else you need for a perfect holiday. It's like having a top hotel suite on the sea. You can hire a skipper, and a cook aboard a sailboat so there's a complete service. If you choose a yacht of a different type, such as a catamaran, a motoryacht or a gulet, you get an even greater feeling of luxury. Also the service varies depending on the yacht type, but one thing is certain…Every yacht type we offer can and will provide more comfort than a hotel room.
Yacht rental in Croatia offers plenty more options than staying in a hotel. The Adriatic is home to countless islands which you cannot experience from a hotel room… There's often recreational equipment onboard, so you can jet-ski, windsurf, wakeboard, Stand up paddle etc. You can go snorkeling in a bay of your choice, or fish in an absolute perfect spot. You can visit some awe inspiring places (like Stiniva bay) otherwise completely unavailable. Finally you can experience sailing, which is an amazing experience. Best of all you're in the Adriatic, a calm bay of the Mediterranean so safety is a non-issue!
People often perceive yacht as expensive. But how expensive are yacht really? Sure hotel rooms are in general cheaper than yachts. But even with the smallest sailboat, you'll get a feeling comparable only with a luxury hotel room, which is btw more expensive. In general, you can say yachts are more expensive, but they offer a lot more than hotels. So when in doubt, choose a yacht! The prices of yacht rentals range widely in accordance with the time period, the physical characteristics of a yacht itself, and the destination. If you want to get a better insight into prices you can check out our real time search engine!