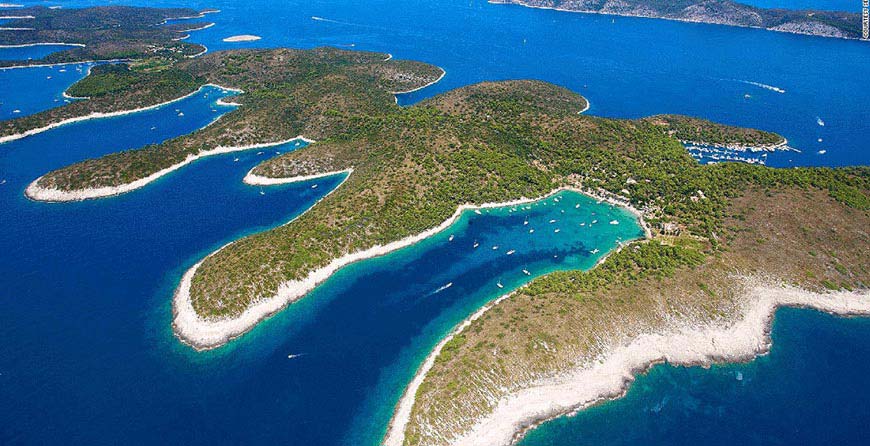 Best things to do in Croatia: Sailing edition!
Always wanted to visit Croatia, but don't know what to do? Feel lost in browsing through countless articles, photos, forums, video reviews? We know the feeling…
Planning a trip to a new destination could be hard, and discovering even an amazing place like Croatia, may be difficult without a good plan. If you decide to rent a yacht in Croatia with YachtHoliday.com, we'll assist you with planning what to visit, create an itinerary, and even give tips on what to visit. But before all of that we decided to make a list of the must-do's in Croatia, as a general, and fun guide for a curious wonderer, or a "to be" sailor. Enjoy!
What to do in Croatia?
Explore the islands
Enjoy the scenery of beautiful natural beaches, bays, and man-made small fisherman villages. There are plenty of islands to explore. Almost everyone who's been to Croatia… No, scratch that, EVERYONE who sailed Croatia has fallen in love with a specific island. Is it the secluded world of Kornati, the high life on Central Dalmatian islands (Hvar, Brac, Korcula, Vis), or the unique experiences of the northern Adriatic. Several Nature Parks, and National Parks in Croatia (like Brijuni in the photo) are located on Croatian islands, and that says a lot!
Visit cultural landmarks
Croatia is world famous not only by its god given spot on the globe, great climate, beautiful nature and crystal clear sea; but also by its interesting history. Centuries of cultural influences, its geographical position (it was in the center of the old Empires - Greek, Roman), and its own rough history made Croatia what it is today. But it also left it with some of the most amazing architecture in the world. For example there's an actual roman colosseum in Pula, remains of old cities in Split, and Zadar, and the amazingly kept city walls in Dubrovnik! The walls in Ston are the second largest in the world, while small Stari Grad is the oldest city in Croatia celebrating its 2400 birthday this year!
Learn how to sail
You're going sailing, so expect to learn something about sailing! Now, don't get your expectations to high, if you're an absolute beginner, and you're coming sailing for a week you probably won't become a professional sailor. But you can expect to get some sailing tips, and learn a bit about this wonderful sport. And who knows, maybe this adventure in Croatia will even get you sailing by yourself!
Dance, Swim, dive…
Croatia is famous by its amazing nightlife. There are a couple of party destinations so hot even celebrities cant resist them. Split, Dubrovnik and Hvar ate the top 3 places to party hard!
There is also a great number of activities that go hand in hand with your yacht charter in Croatia! Swim the crystal blue Adriatic, snorkel and explore the amazing underwater world, take a Stand up paddle board and explore the close surroundings while getting an amazing workout! Some of our yachts are equipped with a jet ski, and other recreational equipment such as a windsurfer, and even a small speedboat and a wakeboard. Be sure to ask for recreational equipment when contacting us so we could provide the best possible service!
Food and wine
Finally the cuisine! And wine, of course… Croatian food is part of the Mediterranean cuisine with an unique and authentic twist. As Croatia is a country with a strong influence of both the continental Slavic cultures, and the Mediterranean roman cultures, the food got the best of both! Croatian cuisine is unique in the world, and certainly one of the best you'll ever try. Fish dishes are amazing, from grilled fresh fish to black risotto. Definitely try Peka while in Croatia! Cheese is also something we're famous by. Pag cheese is the one you want!
Croatian wines are also among the best in the world. Small land like ours with a lot of sunshine, and a harsh but giving soil, combined with the hard work of our vintners' makes for a perfect wine. The best ones in the Adriatic come from Peljesac, Korcula, and Hvar!